Comics: The Operative Network
| comics | the operative network | wunderman | top cow | aspen comics | new paradigm studios |
The Operative Network is a creative studio supporting the work of artists and writers -- Damion Gonzales, Ray-Anthony Height, Thaddeus Howze, Quinn McGowan, Robert Roach, Hannibal Tabu and James Washington the Third. Ideologically patterned after comics collectives like Gaijin Studios or the Empath Magic Tree House (Jeph Loeb, Geoff Johns and Allan Heinberg), the Operative Network serves as a location where the creators can refer work, support each other in their creative efforts and make new material.
Menthu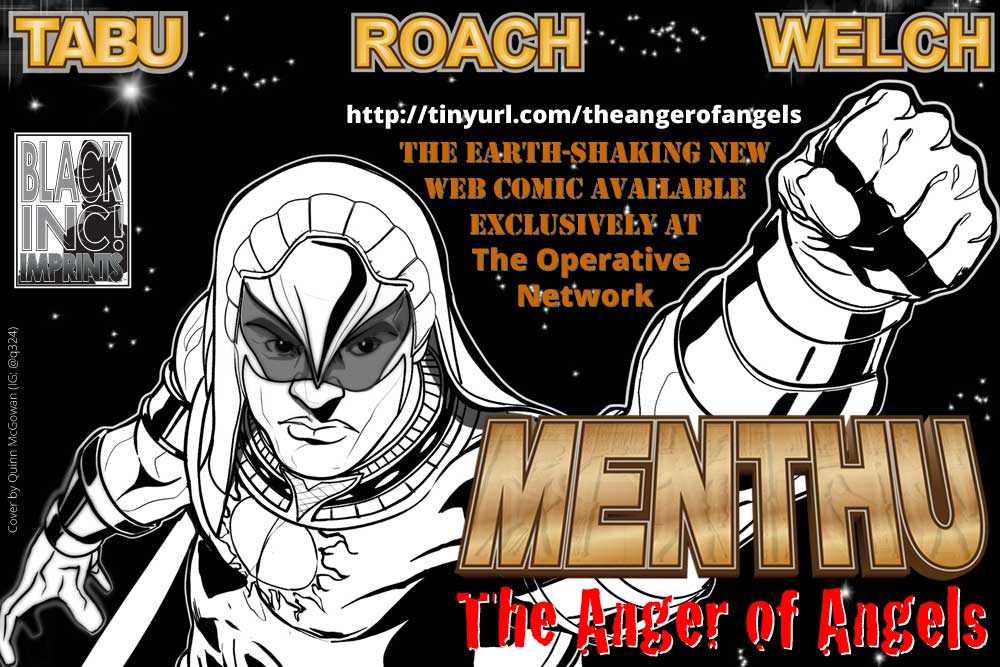 An ancient Egyptian demigod protects the City of Angels from threats supernatural and terrestrial ... and everybody's not happy about that. A pact between an angel and a demon is aimed at making Menthu history, and when they come to blows it will raise hell 'til the heavens fall.
CURRENTLY PUBLISHING: Menthu: The Anger of Angels is a 72 page story written by Hannibal Tabu with artwork from Glyph Award-winning creator Robert Roach and inks from Larry Welch.
Project: Wildfire
An unlikely hero is born when a college students agrees to participate in experiments for a little extra cash. His genetic predisposition turns him into a flying superhuman fighting a contagion of giant monsters that threaten to destroy the southern city he calls home.
ON SALE NOW: The 44 page comics story called Enter Project: Torrent.
CURRENTLY PUBLISHING: Street Justice
The Foundation
Each artist has a stable of creative works, but the one area that most of the members of this collective work together on is The Foundation, a superhero team book that works to balance spectacle with storytelling. An Indian lawyer with a super suit from outer space. A business consultant from Manila who can always find the way out of any sticky situation. The last member of a fallen pantheon, wielding divine power beyond that of mortals. The shapeshifting detective from another world. A reclusive teleporting were-lion king with his own agenda. The billionaire adventurer. The fanboy. The interdimensional shaman. Together, they are all that stands between the world and crisis, again and again, and they have yet to meet their greatest member.
Supernatural: Original Superhero Fiction
He went from fanboy special effects artist to high flying superhero. You can enjoy original prose written about this Santa Monica-based hero with telepathy and magnetic powers whose greatest strength is his ability to believe and persevere.
Supernatural: The Messenger