The Most Important Thing Right Now!
Let's Get Ready To Rumble
A new comic book written by Hannibal Tabu is hitting comic book shelves!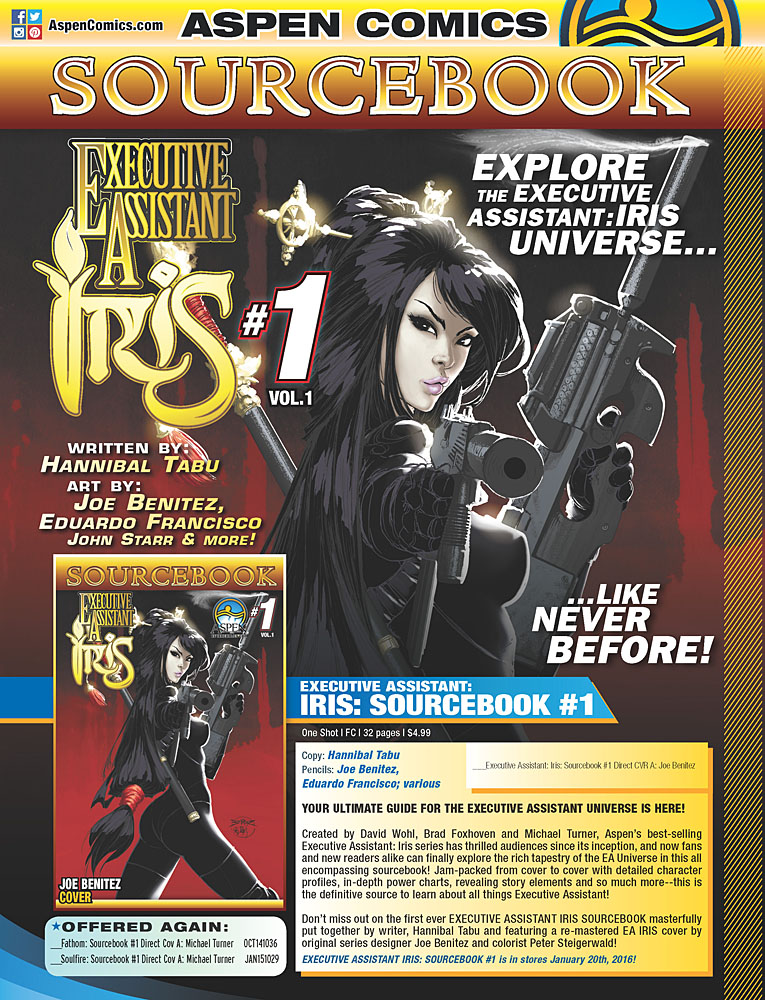 FROM THE PUBLISHER:
Created by David Wohl, Brad Foxhoven and Michael turner, Aspen's best-selling Executive Assistant: Iris series has thrilled audiences since its inception, and now fans and new readers alike can finally explore the rich tapestry of the EA universe in this all-encompassing sourcebook! Jam packed from cover to cover with detailed character profiles, in-depth power charts, revealing story elements and so much more -- this is the definitive source to learn about all things Executive Assistant!

Don't miss out on the first ever EXECUTIVE ASSISTANT IRIS SOURCEBOOK masterfully put together by writer Hannibal Tabu and featuring re-mastered EA IRIS cover by original series designer Joe Benitez and colorist Peter Steigerwald!

EXECUTIVE ASSISTANT IRIS: SOURCEBOOK #1 IS IN STORES JANUARY 20th, 2016!
Fun fact? Released on my birthday.
You can come see Hannibal at Stan Lee's Comikaze, on November 1st at 11:30 AM where he will host a panel featuring Comics on Comics host Vito Lapiccola and real-life lawyer James Thompson, Esq. squaring off at Versus! "Who'd Win" Battles Between Your Favorite Characters. Using the hashtag "#versuspanel" fans can chime in from the crowd via Twitter and take part in the excitement as Thompson and Lapiccola argue characters battling each other. Two lucky Tweets will be chosen to win a signed copy of Canon Comics' New Money #1, written by Hannibal with art from the Eisner-nominated N. Steven Harris!
This panel has been held with great success at Cal State Los Angeles' Eagle-Con for the last two years and is making its Comikaze debut! James and Vito will have opening and closing statements. issue objections and proceed just like a (sort of) court of law, all under Hannibal's watchful gavel-wielding eye. His eye doesn't wield the gavel, that'd be weird. Cool, but weird. You get the point.
So much great stuff coming in the future from Hannibal Tabu!