The Most Important Thing Right Now!
You Wanna Be Down With The King?
No time for frippery or pleasantries! It's a big appearances week for Hannibal Tabu!
THURSDAY, OCTOBER 29:
Co-headlining with hip hop legend Darryl "DMC" McDaniels and The Dead One creator Javier Hernandez, Hannibal Tabu will moderate a panel for Limited Edition a presentation mashing up comics and hip hop courtesy of the Boyle Heights Arts Conservatory.
The panel will be called ...
From Street to Panel: Bringing Urban Aesthetics To Comic Books

Whether doing intentionally diverse material or fitting in with the market, comics creators discuss how their specific perspectives find their way into work for the masses.
Sitting on that panel will be artist and screenwriter Tony Puryear and Aspen Comics vice president and editor-in-chief Vince Hernandez.
This event is free and open to all agents. Students aged 6-19 get food and refreshments. It all happens at 2708 East Cesar Chavez Avenue in Los Angeles from 2-8 PM.
SATURDAY, OCTOBER 31:
Hannibal and Vince reteam for the Official Aspen Comics Panel 2015 at Stan Lee's Comikaze, held at the Los Angeles Convention Center. The panel is at 3:30 PM and will touch on Hannibal's latest upcoming release the upcoming Executive Assistant: Iris Sourcebook.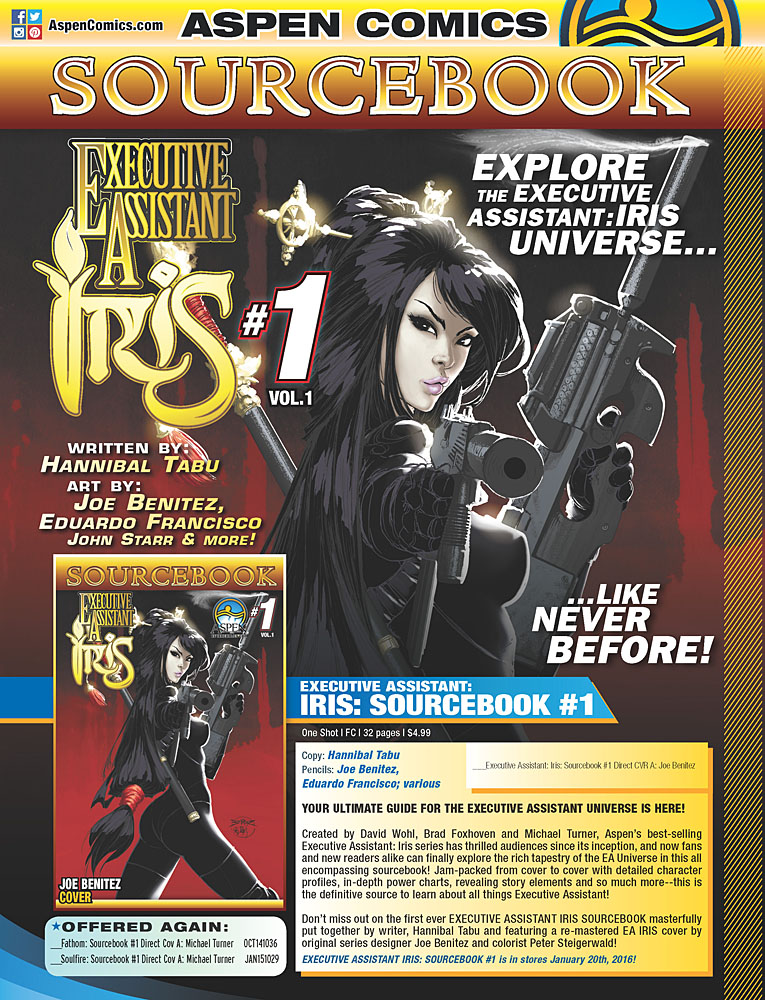 SUNDAY, NOVEMBER 1:
Wielding Mjolnir as a gavel and presiding like a mad magistrate, Hannibal headlines Versus! Who'd Win Battles Between Your Favorite Characters. Featuring comics historian and attorney James Thompson, Esquire facing off against Comics on Comics co-host Vito Lapiccola, they will argue which character would beat another in a battle royale formatted like a court case.
Fans can join in via the hash tag #versuspanel!
Huge week ... oh, and just one more thing ...
Keep your early December open. Something of interest may be happening ...