The Most Important Thing Right Now!
BCAF 2017: I Got 5 On It
… it's been a long time, I shouldn't have left you …
Wow. What a time to be alive. I just turned 44, and I feel like I'm ready to take on the entire freaking world, thanks to the team at my side.
Okay, as is becoming an annual event, new Hannibal-fueled projects debuted at the Black Comix Arts Festival (BCAF) in San Francisco. How many? Five!
MENTHU: THE ANGER OF ANGELS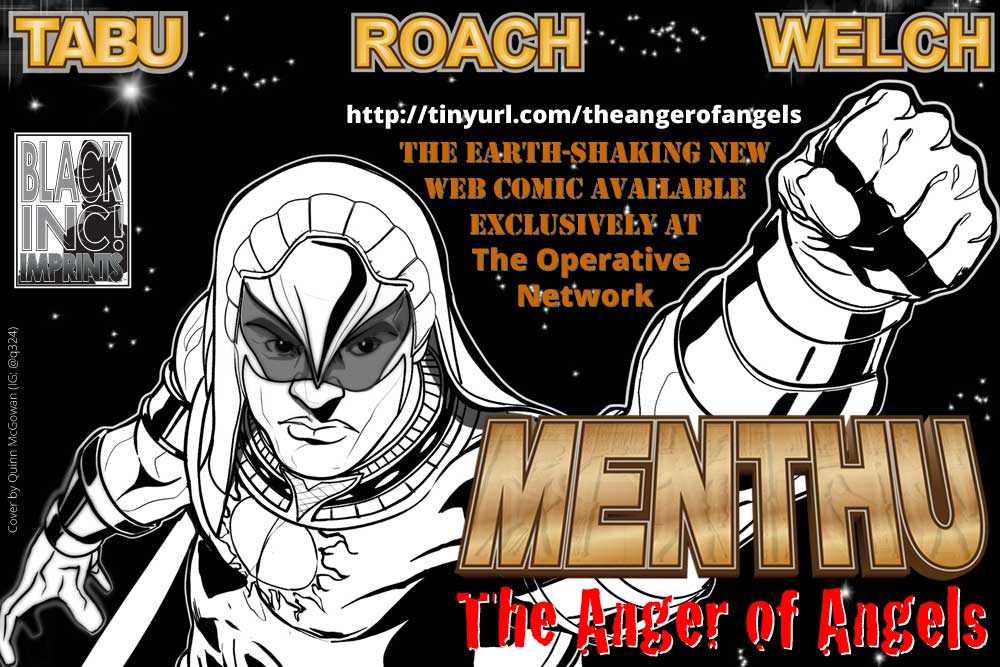 The first big web comics news was a collaboration with the newest member of the Operative Network, storyboarding instructor and Glyph Award-winning creator Robert Roach. This 72 page story is done. I wrote it all. Robert drew and lettered it all. Larry Welch inked it all. Done. All I have to do is remember to post it every week for #menthumonday. Should be fine, right?
You can find this new magnum opus at http://tinyurl.com/theangerofangels, published a page a week until the end of the year. The first 23 pages are already online.
PROJECT WILDFIRE: ENTER PROJECT TORRENT
Last year's big web comic from myself and Quinn McGowan (with a cover by James Washington the Third) is now collected as a single digital edition, 44 pages of story material with six all-new pages of back matter including character profiles. Hotness.
You can check the trailer, see preview pages at http://tinyurl.com/projecttorrent and buy the book right now.
PROJECT WILDFIRE: STREET JUSTICE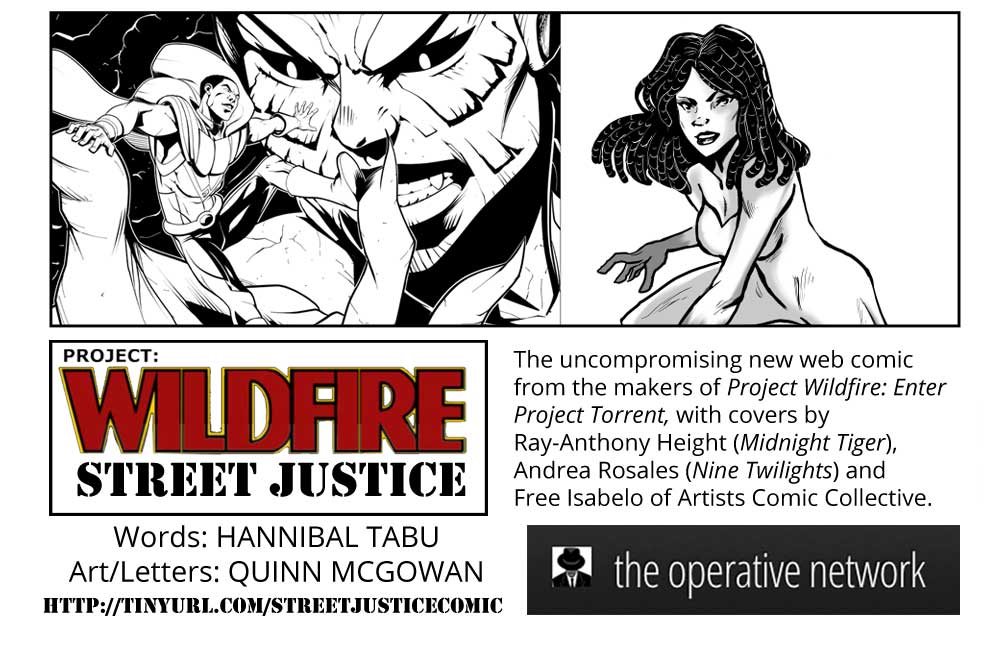 I thought I told you that we won't stop! Quinn McGowan joins me again for a new (what looks like) 60 page web comic that will publish clear into 2018, starting in late February 2017. With a regular cover by Ray-Anthony Height (Midnight Tiger) and variants by Free Isabella (The Contraptor) and Andrea Rosales (Nine Twilights), this book deals with the dichotomy of fighting gigantic monsters while corruption grips the streets.
For the latest, keep your browsers aimed at http://tinyurl.com/streetjusticecomic.
WHO IS DAVID CHANCE?
Last time I made announcements, I spoke of a collaboration with actor Damion Poitier, who was Thanos in The Avengers before Josh Brolin stepped in, who got kicked in the face by the Black Widow in Captain America: Civil War and who plays Chains in the video game Payday 2. I presented the first look at his character, David Chance (as designed by Quinn McGowan), in the top secret new science fiction, Afro-futurist project due out in the winter of 2017. More news on that as it develops.
BLACK POWER: THE SUPERHERO ANTHOLOGY
Last but not least, a prose story written by me, set in the T.A.S.K. universe as created by Damion Gonzales, will appear in the new prose collection from Blacktastic Books. This is slated for a spring 2017 release.
WHEW!
Yeah, it's a lot. I saw some video posted from the event, which I'll try to capture and repurpose for this site as soon as I get a break from my Wunderman Comics deadline ... oops, maybe wasn't supposed to say anything about Irrational Numbers yet ... dangit ...
You can keep up with most of what's happening if you join the Operative Network mailing list, a monthly newsletter with giveaways (building up to a Summer Spectacular where fans can receive a free copy of Michael Turner's Soulfire Definitive Edition Volume 1 and a commission sketch worth $45 from Quinn McGowan.
That's all the news worth reporting. Handle that.